Mahek Bukhari, a TikTok influencer, and her mother, Ansreen Bukhari, have been sentenced to life in prison for the double murder of two individuals, Saqib Hussain and Mohammed Hashim Ijazuddin.
The murders occurred during a high-speed car chase, which resulted in the victims' vehicle, a Skoda, splitting in two and catching fire after leaving the A46 dual carriageway near Leicester. This tragic incident took place on February 11, 2022.
The motive behind the murders was the threat made by Saqib Hussain to expose the extramarital affair between him and Ansreen Bukhari.
Following a trial at Leicester Crown Court, both Mahek Bukhari, 24, and her mother Ansreen Bukhari, 46, were found guilty of two counts of murder after more than 28 hours of jury deliberations.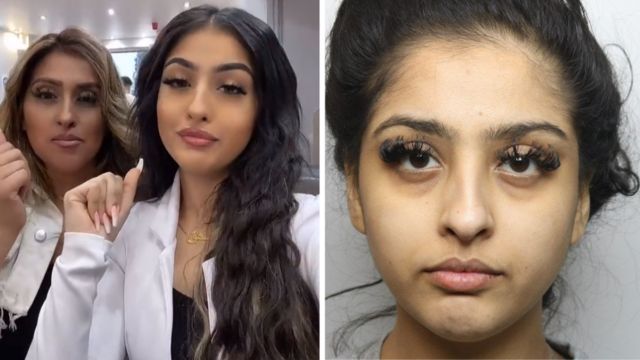 On Friday, Mahek Bukhari received a life sentence with a minimum term of 31 years and eight months in prison, while Ansreen Bukhari was also sentenced to life in prison, with a minimum term of 26 years and nine months.
Additionally, Rekan Karwan, 29, who enlisted the help of Raees Jamal, 23, to carry out the murders at Mahek Bukhari's request, received life sentences with minimum terms of 26 years and 10 months and 31 years, respectively, for their roles in the two counts of murder.
Three others who were in the vehicles used during the fatal car chase, an Audi TT and a Seat Leon, were found not guilty of murder but guilty of manslaughter. They received the following sentences: Natasha Akhtar, 23, was sentenced to 11 years and eight months in prison, Ameer Jamal, 28, received a sentence of 14 years and eight months, and Sanaf Gulamustafa, 23, was sentenced to 14 years and nine months, all for two counts of manslaughter.